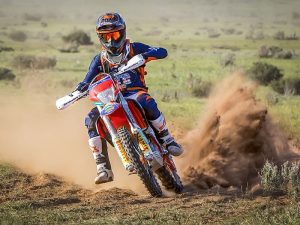 The 2015 South Australian Reliability Trials Championship headed to the Sedan District for Round 2 of the series. The Keyneton MCC played host to the 'Mike Connors Trial' which was an all daylight format of 2 laps and approximately 6 hour in duration. The event started and finished at the Sedan District Sports Ground. Once again a great field of 154 competitors were greeted with perfect conditions.
Results at this point are still provisional, final results will be up dated on the SA Reliability Championship website.
Motorcycling SA Elite rider squad member Toby Lewis (Kessner Motorcycles) repeated his great form from 2 weeks ago taking out the Unlimited class as well as finishing 1st outright, extending his series lead. Rowan Pumpa once again was hot on Toby's tail but was unable to knock him from the top step finishing 2nd outright as well as 2nd in class, Luke Stevenson was eager to redeem himself after missing out on a podium by one spot in the first round and he rounded out the top three spots outright and in the A grade class.
In the Open 2 Stroke D Class, Max Schutz built on confidence from the first round to take the class and finish with in the top 20 outright. Simon Haydon returned to Reliability Trials putting in two consistent laps finishing 2nd in the class and just out the top 20 outright. Ben Cooke would be happy to find himself on the podium after a DNF in the first round.
In the E Class it was a repeat effort from the top three place getters. Once again Alex Heidenrich showed it wasn't first time luck taking out the E Class and having a top 20 outright finish. In 2nd place was Jayden Higgins keeping a close eye on Alex and in 3rd position was Ben Mayne.
In the 271cc to 405cc 4 Stroke F Class it was also a repeat effort from the top three, with Ben Proir claiming victory again and also placed 14th Outright. Daniel Hunt continued to chip away to finish 2nd and Brad Manuel rounded out with third place once again.
Brendon Noble continued his success finishing 12th outright position and was still able to take 1st place in the G Class, continuing his championship campaign well. Luke Edelbauer once again finished 2nd place and finished top 20 outright and Daniel Start finished in 3rd place in the 406cc to 470cc 4 Stroke Class.
Ian Kakoschke had another great race taking out the H Class, the 471cc & Over 4 Stroke division. Glenn Hicks placed 2nd and Hector Evans was still able to finish 3rd evan after incurring a 600 point penalty.
Lone solo lady Sofie Kraft finished her two laps without penalty in Ladies all powers class. Hoping to see more ladies out there with Sofie in the coming rounds. Good job done Sofie!
In the veteran's class, David Manuel won another major margin from Jeff Sparks in 2nd place, Kevin Long rounded out the 3rd place after still occurring a 600 point penalty.
In the Master Class, Brenton Matters was again able to take 1st now fully recovered from his jet lag. Clint Page finished off in 2nd and Ian Lawrence in 3rd.
In the final class of Solo's the Pre 1990 Class was won by Paul Collins, Adam Toolan once again finished 2nd & Shane Kraft slipped to 3rd spot after his round 1 win.
In the Sidecar Division, Launer & Rohrlach continued their winning ways with a top 40 outright and class win in the Sidecar C Class. Matthew Neldner & Justin John finished up 2nd and 3rd was Malcolm Rasmus & Nathan Saegenchnitter.
Sidecar J Class was taken out by Barry Buckley with his son Shaun Buckley as passenger, 2nd was first round winners Chris Rogers & Mark Roesler and in the 3rd was Fred Weckert & Damien Nash.
In the Sidecar K Class, Once again the female pair of Kristy Schultz & Ayla Plowman finished 1st, 2nd was Russel Bailey & Greg Greenham and Damien Telke & passenger Christopher Cowie rounding out the top 3.
The Series now heads to Robertstown for the 2 day 'Lew Job Trial' where Velocette MCC will play host on the 6-7 June.
Photos Courtesy – Shannon Rogers Photography